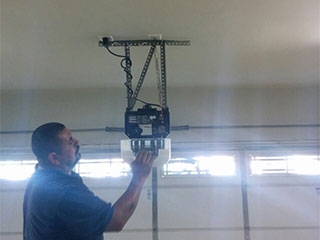 Your garage door opener is arguably the single most important part of your garage door. Apart from the panels, of course. Every owner enjoys the convenience this type of unit offers. All it takes is the push of a button, and your door will automatically open and close. It will also make your garage and your home much more secure. The advantages are really too numerous to mention.
Factors You Should Consider
The main difference between the three main types of openers is the level of noise they produce during operation, as well as how often they'll require to undergo some maintenance procedures.
The Chain-Drive Models
Openers of this type have become quite common in many homes. The reasons for this are that these units can be both economical as well as efficient. They have two glaring downsides, however. They are very loud, and due to their chain and many working parts, will require more frequent maintenance. If your garage is attached to a bedroom or is standing quite close to a neighbor's house, you may want to opt for a different type.
The Belt-Drive Units
While this type of opener is often more expensive than the rest, it does offer the least amount of noise. In fact, it's relatively very silent, due to the fact that it does not possess interlocking metal parts that grind against each other. It is similar to the chain-drive type in structure, only, as the name suggests, this type of opener uses a belt instead of a chain. It also requires less maintenance than the chain-drive option.
The Screw-Drive Opener
There are numerous advantages to this type of opener. It has fewer moving parts than both the chain-drive and the belt-drive types, and therefore it requires only a minimal amount of maintenance. It is also relatively more silent than the chain-drive, however not as much as the belt-drive.
Additional Features To Consider
If your garage door was a car, the opener would be both its engine and its driver. Because of this, as technology advanced, a lot of different manufacturers started adding all sorts of safety and security features to their models. Whether it's a digital locking mechanism, a safety reversal system, backup batteries or rolling code technology, there are plenty of upgrades and special attributes these devices can offer you, and you'd be wise to at least consider them.
Professional Consultation is Key
If you'd like to be certain your new opener will suit your home in every aspect, then contact our team at Garage Door Repair Georgetown to consult with our experts. We'll make sure the opener you have your eye on has employs the industry's latest features and is perfectly capable of handling the size and weight of your door.