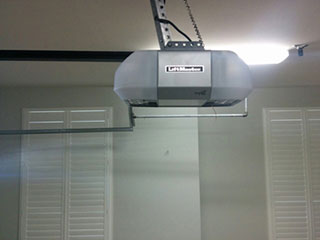 Garage door openers are what allows your door to become fully automated. There are various types of these units, each operating via a different drive system, each with its own advantages and disadvantages. Our experts can help you find one that suits your needs and preference, as well as your budget. These openers are continuously evolving and adding new features for more convenience and safety.
Motor and Circuit Board Problems
Because garage door openers are intricate electro-mechanical units, they can occasionally suffer from all sorts of different issues. Their motor gears can wear out, or an electrical wire can fry. Both of these issues could potentially render your door inoperable and will require a professional technician's attention. Our team can replace the damaged part and restore your opener to its former glory.
Routine Maintenance to Ensure Safety
Most garage door openers have special safety sensors that prevent them from letting the door close while there's an obstacle in its path. That keeps the system from harming people and property. However, these photo-eyes, as they are also known, are quite delicate, and can become misaligned, which will then cause them to fail to properly function. Since this is incredibly dangerous, the best way to keep this from happening is to have your opener undergo routine maintenance. Our technicians will inspect every aspect of your unit to make sure none of its parts have gotten too worn, and we'll conduct a few different safety tests that will ensure your safety sensors are able to properly detect obstacles. We'll realign them if that proves to be necessary.
Choosing a New Unit
As we mentioned earlier, we can help you find the best opener for your garage door. Our experts will be more than happy to consult you on which model can generate the sufficient horsepower necessary to properly operate your door. We'll also help you choose between the chain, belt, and screw drive systems, as some can be louder than others, which is a consideration many homeowners often neglect to factor in. Rest assured that our wide selection consists of the newest and most technologically advanced models out there, with all sorts of special security features.
Contact Us Today
Whether you require some professional consultation or simply need to have your current opener maintained to ensure its longevity, we're the team for the job. Our experts at Garage Door Repair Georgetown specialize in installing and repairing all types of units, and we can help you with every possible aspect. Call us today.
You can also count on us for:
Garage Door Tune Up Services
Opener Sensor Replacement
Broken Garage Door Spring Replacement
Extension Spring Adjustment